Joltin' Joe. The Yankee Clipper. The Architect of the Most Pristine Real Estate in Sports.
The son of a San Francisco fisherman, Joe overcame his humble roots to become the biggest star of his time--both on and off the diamond. His grace and brilliance helped lead the Yankees to 9 World Championships in his 13 playing years from 1936 to 1951.
Joe D. is perhaps best known for his MLB record 56 game hitting streak in 1941. The streak began on May 15, 1941 against Eddie Smith and the Chicago White Sox and ended on July 17 against the Cleveland Indians. America, almost at war, was extremely gravitated by The Streak. Most games then were played in the afternoon, and radio announcers would routinely interrupt programs with news of his progress. The Streak, which probably will never be broken, was so captivating that DiMaggio was able to defeat Ted Williams for AL MVP. despite the Splendid Splinter putting up a .406BA/47HRs and 120 RBI. I guess the facts that Joe put up .357 BA/30HR/125 RBI and the Yankees finished in first place helped too. During the stretch, DiMaggio had ninety-one hits in two-hundred twenty-three at bats during the stretch, hitting .409. Some groove. After The Streak was snapped, he started another one--this one lasting 16 games. Combining the two streaks, the Clipper hit safely in 72 of 73 games.
Joltin' Joe, a righty, was a victim of Yankee Stadium and its dimensions. Many of his shots died in left field's Death Valley and the 475 foot center. Bill James calculated that DiMaggio lost more home runs due to his home park than any player in history.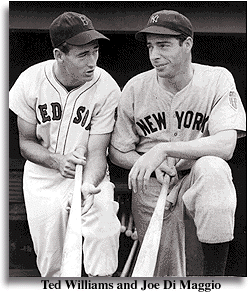 Cognizant of the fact that Joe would have been an absolute beast at the right-handed hitter paradise known as Fenway Park, in 1949, Boston Red Sox owner Tom Yawkey and Yankees GM Larry MacPhail agreed to trade DiMaggio for Ted Williams. However, thankfully the deal went kaput as MacPhail wisely refused to include Yogi Berra in the trade. Imagine Yankee History without these two. I cannot. Also imagine Joe D. as a lefty at the Stadium.
The Yankee Clipper's personal accomplishments are as follows: 3-time AL MVP, 13-time All-Star (the only player to be selected for the All-Star Game in every season he played), .325 BA, 361 HRs, 1537 RBI, .579 SLG (6th highest in big league history), 2 Batting Crowns (1939 & 1940)
These stats do not give justice to his superb fielding. DiMaggio was known for his long strides that allowed him to cover every inch of the massive Yankee Stadium center field. According to Tiger slugger Hank Greenberg, the only way to get a hit against the Yankees was "to hit 'em where Joe wasn't." He developed his nickname "The Yankee Clipper" because as he patrolled center field ne looked as smooth and graceful as the popular 19th century clipper sailing ships known for their speed and ability to cut through wavy waters.
DiMaggio never hit .400 in a season. Former commissioner Fay Vincent asked Joe why and detailed it in his book.
"In 1939, I was going to hit .400. Right around the first of September, we clinched the pennant. We always clinched around the first of September. Right about then, I was hitting .408.

"I was going to hit over .400 that year. Then I got an eye infection. Couldn't see out of the infected eye. Our manager was Joe McCarthy. Every day, McCarthy puts me in the lineup. Commissioner, that guy made out a lineup card in April and he never changed it. Every day I'd go to the ballpark, every day my eye is getting worse and worse, and every day I'm in the lineup. I couldn't hit. My average starts falling. Finally, the eye gets so bad they have to give me an injection in the eye. And McCarthy still has me in the lineup. I wouldn't say anything to him. Now I did not have a bad year, Commissioner. I batted .381. But with my eye almost closed I had to open my stance. The infection was in my left eye, the lead eye. So I had to swing my left foot around to try to see the ball, but I couldn't. I had trouble and my average fell. That was my year to bat .400 and I didn't do it."
In 1954 DiMaggio was elected to the National Baseball Hall of Fame. On his 3rd ballot he received 88% of votes. Baseball writers were apparently idiots back then too.
In addition to being one of the greatest center fielders of all time and a pop culture icon due to his marriage to Marilyn Monroe, Joe D. was a patriot. He enlisted in the United States Army Air Forces on 17 February 1943, rising to the rank of sergeant. Although his role as a physical education instructor did not place him in the same level of danger as fighter pilot Ted Williams, it is admirable that he chose to serve his country in any way that he could have.
Joe also has the honor of having the
coolest song ever about an individual him
. Jeter doesn't even have a song about him.
Hello Joe, whatta you know?
We need a hit so here I go.
Ball one (Yea!)
Ball two (Yea!)
Strike one (Booo!)
Strike two (Kill that umpire!)
A case of Wheaties
He started baseball's famous streak
That's got us all aglow
He's just a man and not a freak,
Joltin' Joe DiMaggio.
Joe, Joe DiMaggio
We want you on our side
He tied the mark at forty-four
July the 1st you know
Since then he's hit a good twelve more
Joltin' Joe DiMaggio
Joe, Joe DiMaggio
We want you on our side
From coast to coast that's all you'll hear
Of Joe the one man show
He's glorified the horsehide sphere
Joltin' Joe DiMaggio
Joe, Joe DiMaggio
We want you on our side
He'll live in baseball's Hall of Fame
He got there blow by blow
Our kids will tell their kids his name
Joltin' Joe DiMaggio
We dream of Joey with the light brown plaque
Joe, Joe DiMaggio
We want you on our side
And now they speak in whispers low
Of how they stopped our Joe
One night in Cleveland Oh Oh Oh
Goodbye streak DiMaggio
The first true 5-tool player, Joltin' Joe was anointed as a rookie as the Second Coming of Babe Ruth. Only 21, a lot of pressure was applied on him to carry the offense and restore the Yankees to their World Champion status. Although he didn't exactly match Ruth's gargantuan numbers, to say that he did not live up to expectations would be foolish. Much credit to a young DiMaggio for not caving under pressure.
The most admirable aspect of Joe D's game was his hard work. Asked why we worked so hard, he replied, "Because there is always some kid who may be seeing me for the first time. I owe him my best." Somebody please show this quote to Robinson Cano. That is how you play the game. It is also refreshing to see an athlete who had accountability to fans.
Whenever you drive over Manhattan's West Side Highway (named after him), please pay your respects and count your blessings that this fine individual was a Yankee. As evidenced by his quote "I want to thank the Good Lord for making me a Yankee," it meant everything for him to be a part of the great franchise.